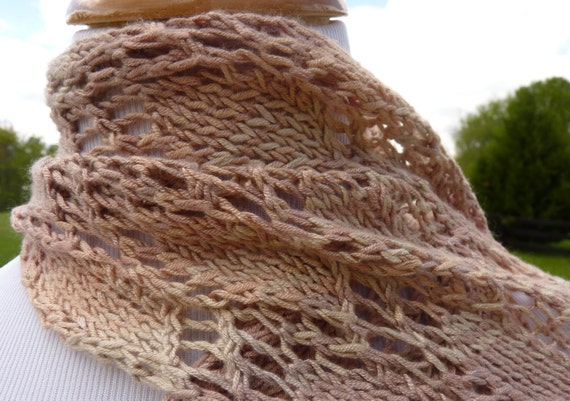 If you knit or crochet for any length of time, you quickly discover that skeins of yarn just find their way into your life.  You really can't help it when they are calling out to you either with their beautiful colors or unique fibers.  That was the case when one day I came across a skein of Araucania Ruca Multy yarn.  This unique yarn is spun from sugar cane fiber.  Araucania yarns take their inspiration from ancient South American crafts and are naturally kettle dyed which means that each skein of yarn is unique.  I couldn't resist purchasing this skein of spun sugar cane yarn in a tonal color blend reminiscent of brown sugar.
I decided to combine the glistening beauty of this silky yarn with the lovely Wabenschal lace pattern created by Birgit Freyer.
Isn't amazing how this:
Can become this?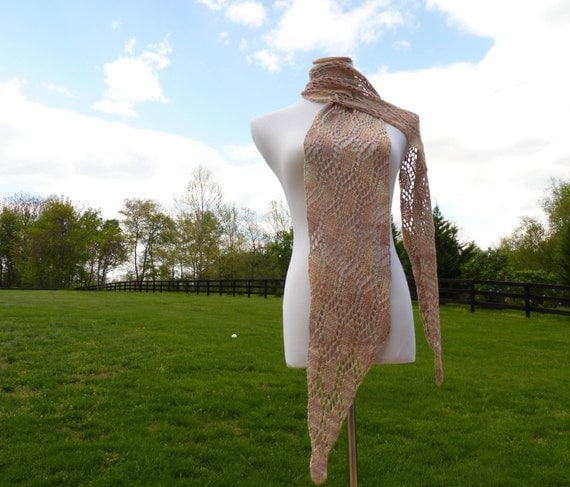 This 80″ scarf is the perfect accessory for a warm day that slowly cools into the dusky evening.  The neutral palette will work with almost any ensemble.
I love how the lace pattern is knit on the bias with the diamonds disappearing off the edges of the scarf.
You can find the listing for this item here in my Etsy shop.