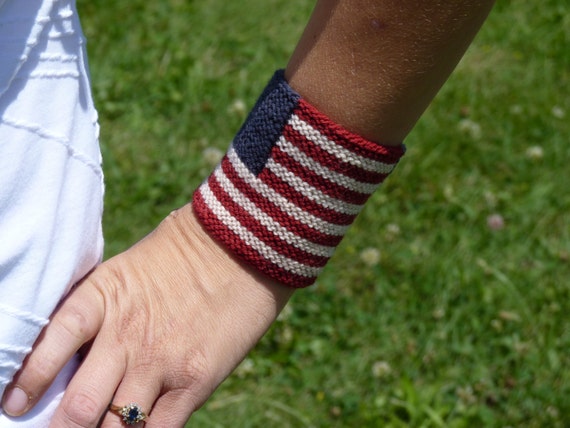 Not surprisingly, I have a soft spot for American Made.  The prices are higher of course, so I take a deep breath and have to really consider the object of my desire which isn't really a bad thing.  Isn't it wiser to really consider an object and if the value it will add to your life whether in form or function is really worth the monetary cost rather than impulsive?
So, my love of American made and my tendency to cry readily upon hearing Lee Greenwood's "God Bless the USA" found their perfect union when I came across the Americana Wrist Cuff pattern by Cirilia Rose and published by Skacel.  I adored the texture created by simple garter stitch and relished the opportunity to finally learn color work techniques.
When I looked up the recommended yarn and discovered it was a 100% sheep to shop made in America, the idea coalesced to create these bracelets for sale in my shop as a completely American made and sourced product.  I wrote to Skacel and obtained permission to craft these bracelets for sale.
The wool yarn that I use for these bracelets is also by Skacel and is called American B.R.A.N.D (Born, Raised and Naturally Dyed) and is 100% American sourced and made.  Skacel sources the wool from Rambouillet flocks that roam farmland from Montana to Texas and spins it into yarn in Pennsylvania.  Then in North Carolina the yarn is dyed using all natural materials such as indigo and various nuts, roots, fruits and flowers.
The last element that I needed to find for this project was the perfect button.  These cuffs deserved something special, and after much searching I found the perfect fit.  I discovered Buttonwood Corporation, a family owned button manufacturer that has been operating in Brooklyn, New York since 1939.  Not only are they Veteran owned, they are committed to paying fair wages and ensuring the health of our planet by having three trees planted for every two harvested for their materials.  I chose to use one of their red white and blue stained laminated wood buttons for my cuff bracelets.  The dyed laminate carries on the Americana theme and the wood is harvested near Rutland, Vermont.
Once all my elements were in place, the fun part of the actual knitting could begin!  These cuffs are knit on tiny #2 (2.75mm) knitting needles.  My first go quickly became quite the tangled mess, as I learned how to maneuver three balls of yarn in the colorwork pattern.  After the first, I quickly learned that slow and steady does indeed win the race, as I pause to keep my yarn skeins separated with each turn; a little care as you go definitely spares you some headaches of untangling the skeins at the end.  I also ended up modifying the pattern after my first prototype to utilize two buttons per cuff instead of one because I did not like the way that one button pulled and distorted the button band.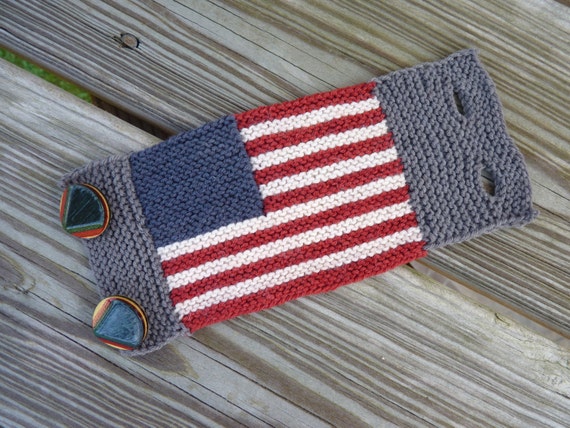 For my items listed as custom orders in my shop, I knit up the flag portion of the cuff and one side of the button band.  I leave the other side to be knit once the customer has told me their desired length to fit their arm snugly.  By having an inventory of the bracelets partially finished, I can speed up my turn around time for when a customer orders a custom piece.  I also occasionally knit some through completion and list them separately in my shop for the customer who wants a ready made piece.
The flag portion of the bracelet measures 4.25 by 3.25 inches with slight variations as each is made individually by hand.
If your bracelet needs cleaning or if it has stretch over time and you want to return it its original dimensions, simply wash by hand in cool water, gently press it dry and then reshape to dry flat.  (DO NOT WRING IT or you may cause the fibers to felt together!)
They really are the perfect accessory for patriotic events and people.  They are substantial enough in size that they even appeal to men (my husband has been known to wear one upon occasion.)
You can find all the bracelets currently available in the Jewelry Section of my Etsy Shop.